Anxiety is a common experience which affects countless people around the world.
Anxiety can be consuming, impacting every area of your life.
The Bible offers guidance to those struggling with anxiety, providing words of comfort, encouragement, and hope.
The Bible addresses anxiety in various ways, acknowledging the reality of its presence in our lives. One of the most well-known passages on anxiety can be found in the book of Philippians, where the apostle Paul encourages believers, saying, "Do not be anxious about anything, but in everything by prayer and supplication with thanksgiving let your requests be made known to God" (Philippians 4:6).
This verse highlights the importance of entrusting our anxieties to God through prayer, seeking His peace and guidance in every situation.
What does the Bible say about anxiety?
The Bible addresses anxiety in several passages.
Here are a few key verses which shed light on what the Bible says about anxiety:
1. Matthew 6:25-27: "Therefore I tell you, do not be anxious about your life, what you will eat or what you will drink, nor about your body, what you will put on. Is not life more than food, and the body more than clothing? Look at the birds of the air: they neither sow nor reap nor gather into barns, and yet your heavenly Father feeds them. Are you not of more value than they? And which of you by being anxious can add a single hour to his span of life?"
2. Matthew 11:28-30: "Come to me, all who labor and are heavy laden, and I will give you rest. Take my yoke upon you, and learn from me, for I am gentle and lowly in heart, and you will find rest for your souls. For my yoke is easy, and my burden is light."
3. Psalm 55:22: "Cast your burden on the LORD, and he will sustain you; he will never permit the righteous to be moved."
What does God say about having anxiety?
God, throughout the Bible, reassures His people He understands their anxieties and is with them in their struggles. 1 Peter 5:7 says: "Cast all your anxieties on him because he cares for you."
This verse reminds us that God not only cares about our well-being but also invites us to release our burdens and worries to Him.
Get Help Today.
We are here to help you through every aspect of recovery.
Let us call you to learn more about our treatment options.
We are here to help you through every aspect of recovery. Let us call you to learn more about our treatment options.
What is a good Bible verse for anxiety?
When it comes to finding a specific Bible verse for anxiety, there are numerous options to choose from.
One powerful verse is found in Isaiah 41:10: "Fear not, for I am with you; be not dismayed, for I am your God; I will strengthen you, I will help you, I will uphold you with my righteous right hand." This verse beautifully encapsulates God's promise of presence, strength, and support amid anxiety.
How do you overcome anxiety biblically?
Overcoming anxiety biblically involves relying on God's promises, trusting in His plan, and cultivating a deep relationship with Him.
In Proverbs 3:5-6, we are instructed to "Trust in the LORD with all your heart, and do not lean on your own understanding. In all your ways acknowledge him, and he will make straight your paths."
By placing our trust in Him and seeking His guidance, we can navigate through anxious moments with a renewed sense of peace and confidence.
What does Proverbs say about anxiety?
The book of Proverbs offers wisdom and practical guidance on various aspects of life, including anxiety. Proverbs 12:25 says: "Anxiety in a man's heart weighs him down, but a good word makes him glad."
This verse acknowledges the burden and heaviness anxiety brings to your heart.
It also reminds us of the importance of offering support and encouragement to those experiencing anxiety.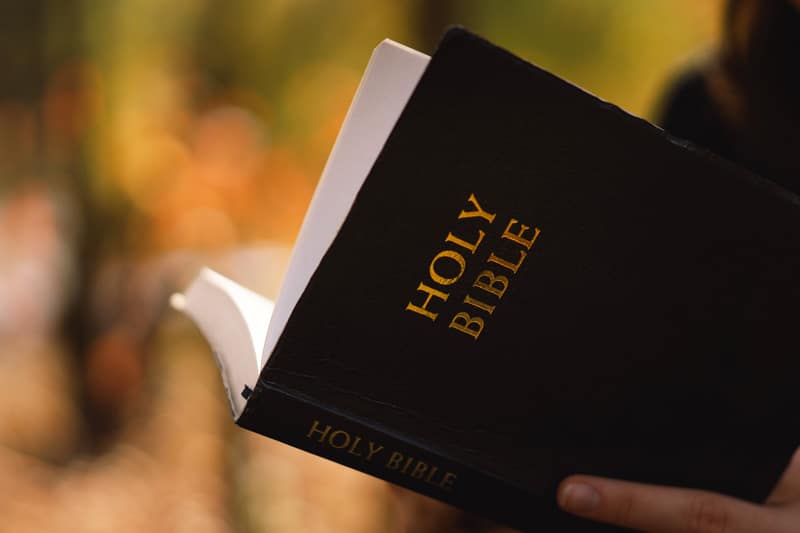 What does Jesus say about anxiety and fear?
Christ Jesus, in His teachings, addresses anxiety and fear, providing comfort and assurance to His followers. In Matthew 6:34, He says, "Therefore do not be anxious about tomorrow, for tomorrow will be anxious for itself. Sufficient for the day is its own trouble."
Jesus Christ reminds us of the futility of worrying about the future and encourages us to focus on the present moment, trusting in God's provision and care.
Who in the Bible struggled with anxiety?
Throughout the Bible, we encounter people who struggled with anxiety, such as the prophet Elijah. In 1 Kings 19, we find Elijah fleeing from Jezebel, filled with fear and despondency. In his moment of anxiety, God meets Elijah's needs and reassures him of His presence and purpose in Elijah's life. This serves as a reminder even the most faithful people can experience anxiety, but God remains faithful and compassionate, offering comfort and strength.
What is the Psalm on anxiety?
The book of Psalms is a treasure trove of comforting verses for anxiety. Psalm 94:19 says: "When the cares of my heart are many, your consolations cheer my soul." Psalm 23:4 says: "Even though I walk through the valley of the shadow of death, I will fear no evil, for you are with me; your rod and your staff, they comfort me." These words remind us God's presence provides a sense of security and peace, even during the most challenging and fearful circumstances.
Inspirational Bible verses about anxiety
In times of anxiety, we can find strength and inspiration in various Bible verses. For instance, Isaiah 26:3 declares, "You keep him in perfect peace whose mind stays on you because he trusts in you." Similarly, 2 Timothy 1:7 reminds us "God gave us a spirit not of fear but of power and love and self-control."
It is essential to remember while these Bible verses offer comfort and guidance, seeking professional help and advice is crucial for people struggling with anxiety disorders or other mental health challenges.
The Bible should be viewed as a powerful tool for spiritual guidance and strength, but it does not replace the necessity of seeking medical advice and support.
To get professional help for your anxiety contact Sanctuary Clinics for anxiety treatment facility options

Treatment
Get Help Today.
We are here to help you through every aspect of recovery.
Let us call you to learn more about our treatment options.
We are here to help you through every aspect of recovery. Let us call you to learn more about our treatment options.